Forge books place in CPL Finals with narrow win over Cavalry; HFX also clinches
---
Forge FC will be playing for a championship on Saturday.
The Hamilton club beat Cavalry FC 1-0 on Tuesday in their second-round finale at The Island Games, sealing their place in the CPL Finals this weekend and eliminating the Cavs from title contention.
Forge's win also clinched a spot in the CPL Finals for HFX Wanderers FC, who wrap up their second round on Tuesday evening vs. Pacific FC.
The game opened with a strong pace, as Cavalry, who were facing a must-win situation, tried hard to find attacking opportunities while feverishly man-marking their opponents. It was Forge, though, who opened the scoring midway through the first half.
Despite a strong press from Cavalry's Elliot Simmons, Forge skipper Kyle Bekker managed to turn with the ball and fed a sublime through ball ahead to Mo Babouli. The former TFC player outstripped his defender and beat Cavs goalkeeper Marco Carducci with a perfect chip off the crossbar and in.
The second half went on in similar fashion, as Forge sat deep and gave Cavalry few opportunities to press and counter-attack. They had several chances of their own, with a few shots from Paolo Sabak not quite challenging Carducci. Still they kept the Cavs away from their goal for the most part, as Tommy Wheeldon Jr.'s injury-plagued side struggled to break through.
Fighting to keep their season alive, Cavalry threw all they had (despite a heavily depleted bench) at Forge in the final 15 minutes, with Jair Cordóva and José Hernández attempting to inject new energy into the game, but they ultimately had no answer for Forge's near-perfect defending.
The Cavs did create five shots in the second half, hanging onto possession and attempting to probe, but they couldn't find the goal they needed.
Although this is the end of the road for Cavalry, the 2020 CPL season isn't over yet. Forge, having booked their spot in the final (and indirectly doing the same for HFX Wanderers FC) will take on the Maritime club on Saturday for the North Star Shield (2:00 p.m. ET/3:00 p.m. AT, on OneSoccer and CBC).
---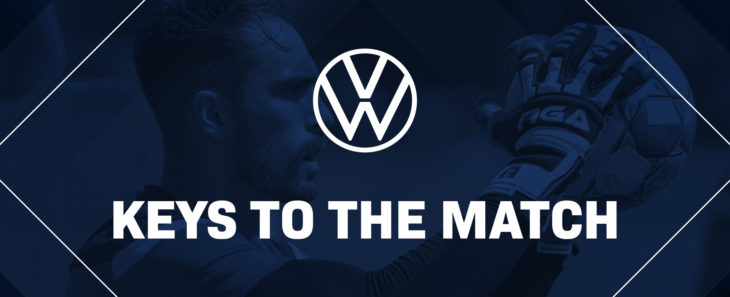 Cavalry FC: Keep pressing – In spite of the toll that injuries and fatigue have taken, and entering the game with just five outfield players on the bench, Cavalry fought admirably to the end. They pressed hard almost the whole game, but Forge didn't make mistakes that could've led to better counter-attacking opportunities.
Forge FC: Limit set pieces – Forge did reasonably well in this respect, generally keeping Cavalry far enough away from their goal to prevent them from taking attacking-third free kicks. One set piece in the second half led to a decent chance for Robert Boskovic, and another found the head of Marcus Haber, but neither was dangerous enough. The Cavs took five corners, but they were unable to turn them into shots on goal.
---
BOX SCORE
Goals
27′ – Mo Babouli (Forge FC)
Discipline
36′ – Yellow: Kyle Bekker (Forge FC)
69′ – Yellow: David Edgar (Forge FC)
90+2′ – Yellow: José Hernández (Cavalry FC)
---
TOP PERFORMER
David Edgar (Forge FC)
It's not often that Forge FC are required to defend for long stretches of a game, but when they do, they do it well. Edgar (in tandem with an excellent cast of defenders and goalkeeper Triston Henry) was superb, both moving the ball well with passes despite the Cavs' press, and keeping attacking moves out of dangerous areas. He finished with a game-high 10 clearances.