Forge FC: 3 key performers for 2020
---
All season long, CanPL.ca reviewed key performers from each Canadian Premier League match, giving due credit to players who impressed over 90 minutes. Now, we offer this one last look at standout performers for Forge FC to bring a close to an exciting second CPL campaign.
---
Forge FC ended 2020 the way they started it: as Canadian Premier League champions.
They emerged from The Island Games with their second North Star Shield in tow, having dispatched HFX Wanderers FC in the final. Forge lost just once in PEI, falling to York9 FC in the first round before going undefeated the rest of the way and asserting their dominance over the rest of the league.
Plenty of Forge players deserve recognition for an incredible 2020 season — certainly, a few attackers earned some credit in a season where the club deployed a different front three in every CPL match. Still, the following three were rock-solid and consistent for the champions.
Here are Forge FC's three key performers for 2020.
---
RELATED READING: Forge FC: 2020 year in review
---
3 Key Performers for 2020
---
1. Kyle Bekker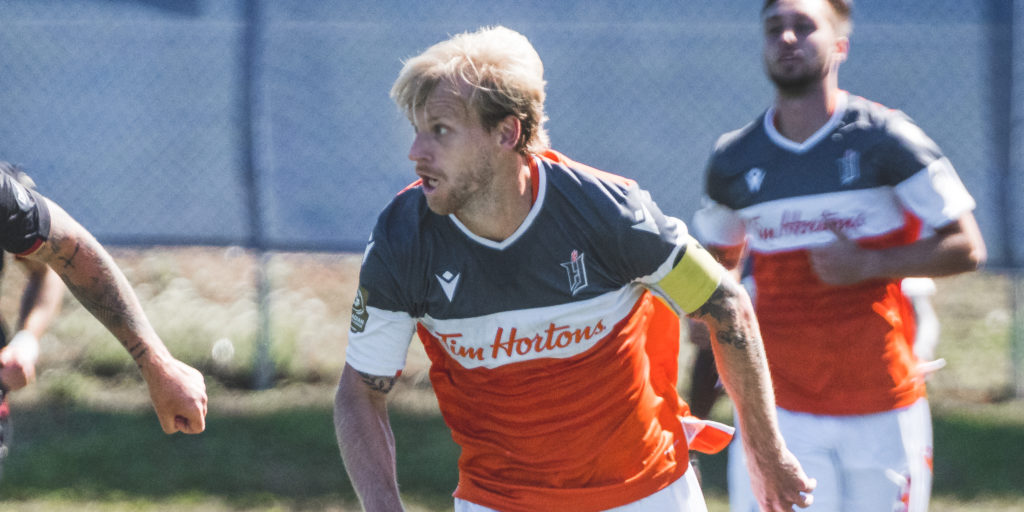 Position: Attacking midfield
Appearances (starts): 15 (15)
Minutes played: 1,239
Goals: 4
Assists: 1
Ball recoveries: 58 (2nd in CPL)
Passes into attacking third: 79 (4th in CPL)
There's not much more to be said about the CPL's Player of the Year. Bekker captained Forge to an incredible 2020 run, scoring four goals in PEI — including a few that saved results for the club, like his 90th-minute header against Pacific FC. He started every single game they played this year, wearing the armband in every match.
Bekker is one of the league's best players on both sides of the ball; this year, he was just as tenacious as ever in recovering the ball in midfield, and his attacking play was even more dangerous than it was in 2019. He covers as much ground as anyone in the entire CPL, and he's one of the best passers, both in range and vision of his attempts. Although he toes the line with his tackles sometimes, Bekker is undoubtedly one of the most dynamic and entertaining players in Canadian soccer right now.
Nobody has been more consistent than Bekker, which is why he was named the league's MVP.
What they said: "I think he's more than deserving of it. He deserved it last year, as well. He's been an amazing captain and one of the best leaders on our team, someone I've worked closely with day in and day out the last two seasons. He's always there for us, he works hard and he sets an example as to how a professional footballer should act," – Forge goalkeeper Triston Henry on Bekker's Player of the Year award
---
2. Daniel Krutzen
Position: Centre-back
Appearances (starts): 15 (15)
Minutes played: 1,321
Goals: 4
Total passes: 647 (2nd in CPL)
Interceptions: 34 (1st in CPL)
Aerials won: 24 (2nd in CPL)
In two seasons in Canada, the young Belgian centre-back has established himself as perhaps the best defender in the CPL. He ranks near the top of the league in just about every defensive category — interceptions, tackles, blocks, and so on — but what truly sets Krutzen apart is his ability on the ball. He's a capable midfielder as well as a centre-half, which means Forge have one of the league's best passers commanding the backline.
Forge were often seen to be cycling the ball backwards to Krutzen, who's able to switch play across the back better than anyone in the league. He's also stepped up when needed in the attack a few times; Krutzen is quite capable of winning a ball in the air in either 18-yard box, meaning he's always a threat to score off a set-piece.
That said, it's often Krutzen himself taking the set-pieces. He's scored some of Forge's biggest goals from the penalty spot (including the game-winner against Tauro FC in the Concacaf League), and he's served up a few exceptional free kick attempts as well.
What they said: "He's indicative of the types of players we have on the team that can play some different roles. He's an important player and it's always good when you can shift things around to make you better and also to counter what the opponent is bringing to you." – Forge coach Bobby Smyrniotis
---
3. Triston Henry
Position: Goalkeeper
Appearances (starts): 14 (14)
Minutes played: 1,260
Clean sheets: 5 (1st in CPL)
Saves made: 23 (2nd in CPL)
Recoveries: 79 (T-1st in CPL)
Henry was more than worthy of the CPL's Goalkeeper of the Year award in 2020. He didn't put a foot wrong throughout The Island Games, and he kept five clean sheets (including one in the CPL Final). That's a shutout in half his 10 games in PEI!
Although Forge's defence was excellent in front of him, Henry was constantly ready when called upon. He was probably the league's most courageous goalkeeper in 2020, never afraid to dive into a challenge and pounce on the ball before the opposing attackers could find an opportunity to shoot.
The 2020 season as a whole for Henry may be unfairly remembered for his unfortunate error against Arcahaie FC, but he was undoubtedly the CPL's best shot-stopper in 2020. Henry's teammates defended him fiercely all year, and he paid them back in kind with some top-notch saves. He doesn't make a lot of highlight reels with flashy saves, but that's just because Henry is so consistently in position that he doesn't need to.
What they said: "He really deserves it, and I think I'm a little biased because I get to see the work he's put in and the growth he's had over two years. Obviously the fact the guy hasn't given up a goal in two finals — there's no other goalie that can say that. He's got two shifts and three clean sheets. I think that's all the argument you need." – Kyle Bekker on Henry's Goalkeeper of the Year award